Alliance Partners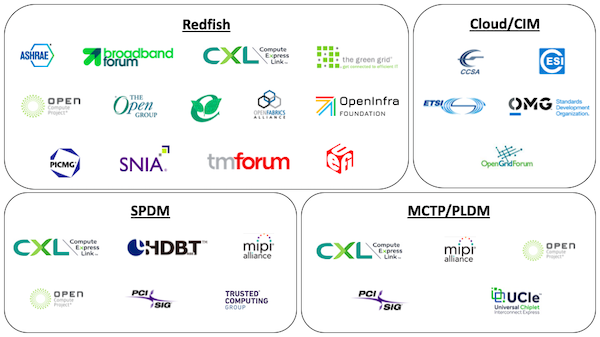 Alliance Partnerships with SDOs
Current Work Registers
Current 3-Way Work Registers

The Alliance Partner Technical Symposium
DMTF hosts the Alliance Partner Technical Symposium (APTS), annually in July. SNIA has been a longtime partner for APTS. APTS provides an opportunity for the membership to meet face-to-face, in an era of virtual meetings.
During APTS, working groups host working body meetings. DMTF and SNIA hold their board meetings at APTS. Alliance Partners are invited to deliver keynote presentations regarding their organization. Alliance Partners are also invited to host meetings, as space permits.
View our past APTS events
Academic Alliance Partner Research
DMTF is proud to highlight research from its growing Community of Academic Alliance members.
Other Alliance Activity
DMTF also has Liaison relationships with national and international accreditation and recognition of our standards. These standards can be found at the "ANSI/ISO Adoption" page.
Become an Alliance Partner
Alliance Partner
DMTF values working with affiliated industry organizations, and the Alliance Partner membership is a way for DMTF to formalize synergistic relationships with other standards groups. Strictly for not-for-profit organizations in the standards arena, the Alliance Partner membership level is offered at no charge. This membership category is intended to clarify roles and provide mutual benefit to the organizations and DMTF. Alliance Partner membership is an important way DMTF is helping unify management initiatives and develop more solid partnerships.
For more information on how to become an Alliance Partner Member, please contact DMTF Administration
Academic Alliance Partner
The Academic Alliance program promotes DMTF technologies within academia by providing an academic alliance membership to a working group or forum. The program is open to researchers at universities and other research institutes:
Who are performing research on the DMTF standards and technologies
Who are extending DMTF standards and technologies into new domains
Who are using DMTF standards and technologies within their research
To apply for Academic Alliance membership, please complete the Academic Alliance application form.
Alliance Partner Process
The process on becoming an alliance partner and creating a work register is described in the "Alliance Partner & Academic Alliance Partner Process" - DSP4003 v1.9.0. For more information on the process, please contact DMTF Administration.