Alliance Partners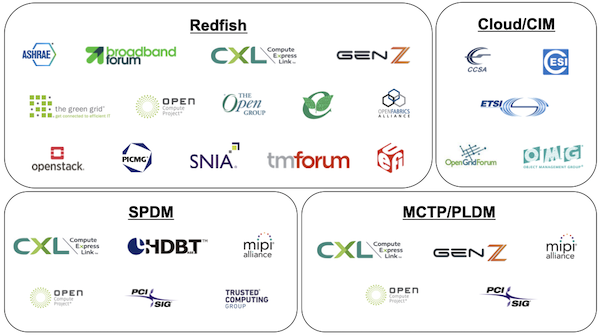 Alliance Work Register Process
Approved by the DMTF board of directors on July 26, 2021, the most recent version of DSP4003 v1.9.0 (the Alliance Partner Work Register Process document) defines how an alliance partner work register is created and the sequence of steps that are required before a work register is approved and the alliance partnership is established. The document also explains the process for updating work registers.
Current Work Registers
Current 3-Way Work Registers

Organization
Work register
NVM Express (NVMe)
Storage Networking Industry Association (SNIA)
Work Register (98k pdf)
OpenFabrics Alliance (OFA)
Storage Networking Industry Association (SNIA)
Work Register (112k pdf)
Academic Alliance Partner Research
DMTF is proud to highlight research from its growing Community of Academic Alliance members.
Other Alliance Activity
Featured items on the Other Alliance Activity page include the Cloud Wiki, and Liaison relationships with other Standard Setting Organizations (SSOs).
Become an Alliance Partner
DMTF values working with affiliated industry organizations, and the Alliance Partner membership is a way for DMTF to formalize synergistic relationships with other standards groups. Strictly for not-for-profit organizations in the standards arena, the Alliance Partner membership level is offered at no charge. Alliance Partner members may participate in DMTF working groups as a non-voting member, and in the DMTF Marketing Committee, Technical Committee and the appropriate DMTF Working Groups as a non-voting member. Alliance Partner members also have access to the DMTF members-only Web site and member email lists. This membership category is intended to clarify roles and provide mutual benefit to the organizations and DMTF. Alliance Partner membership is an important way DMTF is helping unify management initiatives and develop more solid partnerships.
For more information on how to become an Alliance Partner Member, please contact DMTF Administration