Gartner Data Center Conference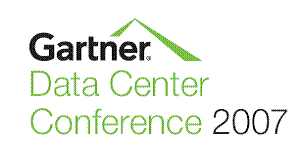 DMTF Sponsors Gartner Data Center Conference
26th Annual Gartner Data Center Conference
November 27-30, 2007
Las Vegas, Nevada
MGM Grand

Save the date for the 26th Annual Gartner Data Center Conference to be held at the MGM Grand in Las Vegas, NV on November 27-30, 2007. In three and a half packed days, the event will present a comprehensive look at best practices from throughout the data center field, as well as cover the following topics:
Servers and storage
IT operations
Virtualization
Consolidation
Workload management
Procurement
Business continuity
Disaster recovery
As a Silver Sponsor of the Gartner Data Center Conference, DMTF will have a booth at the event to highlight the following:
SMASH - Systems Management Architecture for Server Hardware (SMASH) Initiative, a suite of specifications that deliver architectural semantics, industry standard protocols and profiles to unify the management of the data center.
DASH - Desktop and mobile Architecture for System Hardware (DASH) Initiative, a suite of specifications that takes full advantage of the DMTF's Web Services for Management (WS-Management) specification – delivering standards-based Web services management for desktop and mobile client systems.
CDM - The Common Diagnostic Model (CDM), an extension of the DMTF's Common Information Model (CIM), and a specification that is widely used within the industry to evaluate the health of computer systems in multi-vendor environments.
Register for this Event
26th Annual Gartner Data Center Conference
MGM Grand Hotel
3799 Las Vegas Blvd. South
Las Vegas, NV 89109
Phone: 1-877-880-0880

DMTF is sponsoring this event event and has negotiated conference travel and lodging discounts for our members.  Click on the links below to register online and take advantage of hotel and travel discounts!
Date(s):
Tuesday, November 27, 2007

to

Friday, November 30, 2007