Storage Developers Conference (SDC)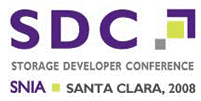 Storage Developer Conference

Hyatt Regency Hotel
5101 Great America Parkway
Santa Clara, CA 95054
(408) 200-1234

DMTF is proud to once again sponsor the Storage Developer Conference. Now in its fourth year and again expected to draw more than 250 developers and engineers participating in over 50 sessions in multiple tracks, the Storage Developer Conference is the only event created by the storage industry for the storage industry.

SDC provides the information and know-how to further advance solutions with features that shorten time to market for a developed solution, increase acceptability and interoperability in production environments and help participants understand where storage technologies are heading. In addition, plans are being finalized for the CIFS and iSCSI plugfests.

Session Topics
Common Internet File System (CIFS)
iSCSI
eXtensible Access Method (XAM)
Green Technologies
Network File Systems (NFS)
Fibre Channel Protocols
Fibre Channel over Ethernet (FCoE)
Storage Ready for Virtualization Platforms
Storage for Grid/Utility Computing
Open Source
Storage Management Initiative-Specification (SMI-S)
Information and Data Management Technologies
Storage Security
Enterprise, Small and Medium Business Solutions
Emerging Storage and Data Technologies
| | |
| --- | --- |
| Conference Agenda | Click here to view the full conference agenda |
| Registration | Click here to register for the Storage Developer's Conference |

DMTF Members: look forward to a special, members only registration discount coming soon!

Make your hotel reservation:
Hyatt Regency Hotel
5101 Great America Parkway
Santa Clara, CA 95054
(408) 200-1234

Click here to make your hotel reservations online.
Date(s):
Mon, 2008-09-22
-
Wed, 2008-09-24
Press/Analysts Contacts
For information regarding DMTF public relations activities, or if you are an industry journalist or analyst in need of more information, please contact DMTF's public relations firm, StrongPR, or contact Karen Strong by email at press@dmtf.org or directly at 916-671-0334.