FAST 2013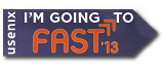 Join us in San Jose, CA, February 12-15, 2013, for FAST '13.
FAST '13 brings together researchers and practitioners to explore new directions in the design, implementation, evaluation, and deployment of storage systems in a unified, high-quality forum. The program includes training by experts, including Jeff Darcy, Sudipta Sengupta, James S. Plank, Cheng Huang, and Sandeep Uttamchandani.
Paper presentations in the technical sessions focus on the key topics—caching, protecting your data, deduplication, file systems, Flash and SSDs, and more—that storage professionals need to become more skilled in for research and work purposes. Don't miss the chance to be a part of this unique career-building journey.
Please click here to learn more about FAST'13!
Register by January 22 and save. Additional discounts are available!
Date(s):
Tue, 2013-02-12
-
Fri, 2013-02-15
Press/Analysts Contacts
For information regarding DMTF public relations activities, or if you are an industry journalist or analyst in need of more information, please contact DMTF's public relations firm, StrongPR, or contact Karen Strong by email at press@dmtf.org or directly at 916-671-0334.