CDM Conformance Program

Common Diagnostics Model (CDM) Conformance Program
---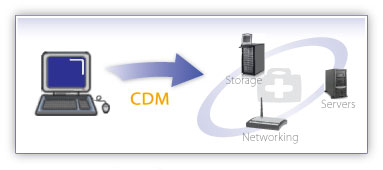 Increase interoperability between multiple clients
Provides means to check CDM implementations to conformance with DSP1002 standard
Increases market visibility to certified and conforming products in the market place
Promotes further industry adoption
Strengthens confidence in DMTF standards
The CDM Conformance Program (CDM CP) is designed to validate CDM implementations to a particular version of the CDM Implementation Requirements Specification and is managed by DMTF. CDM is used to evaluate the health of computer system components in multivendor environments. It specifies diagnostics instrumentation that can be utilized by vendors (OEMs and system builders) and platform management applicants to determine the health of a computer system components.
Companies interested in participating in the CDM CP self-test their implementation using the applicable CDM Conformance Test Suite and submit their digitally signed results to the CDM Conformance Program Administrator (an independent third party) for validation. The results will be validated by the Conformance Program Administrator. Certified results may be submitted for inclusion in the DMTF Certification Registry.
Click here to review the latest DMTF CDM Certified products.
The CDM Conformance Process
Products conforming to the CDM standard provide a consistent interface for cross-platform diagnostics enabling vendors to offer the best possible solutions for their customers. By providing a conformance program for vendors to test conformance to CDM Standards, DMTF continues enabling state-of-the-art interoperable management solutions for the industry.

Thomas Butler
Former DMTF Vice President of Interoperability