Common Diagnostic Model (CDM)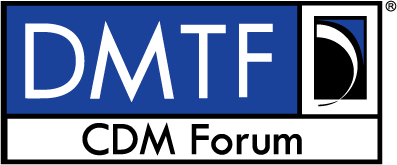 The DMTF's CDM Forum is dedicated to uniting the computer industry on a single interoperable interface to all system diagnostics.

The Common Diagnostic Model (CDM) specification is widely used within the industry to evaluate the health of hardware systems in multi-vendor environments. The CDM Forum continues to extend these capabilities by helping deliver additional compatibility in cross-platform system diagnostics.

CDM creates diagnostic instrumentation that can be utilized by platform management applications, and its tight synergy with the other models in the DMTF's Common Information Model (CIM) enabling further integration of diagnostics into critical management functions. By developing the CDM Conformance Program, the CDM Forum provides a new level of interoperability validation to help drive adoption.
CDM Conformance
The CDM Conformance Test Suite (CTS) software is available to IT vendors developing diagnostics within the DMTF DSP 1002 Profile Specification 1.0. Click here to learn more about the CDM Conformance Test Suite.
Forum Membership
DMTF Forums pursue work of interest to a subset of DMTF members. Participating in Forums allows member companies to benefit by uniting with other members to share the costs of joint initiatives and together succeed at their stated mission. Membership in the DMTF does not automatically grant membership in a Forum, however, a member of a Forum must also be a member of the DMTF.
Membership in the CDM Forum, which is granted at the company level, results in a number of valuable privileges. Click here to join the CDM Forum.
CDM Forum Membership Entitlements ($10,000)
CDM Forum members receive the following privileges:
Access to all Forum communication and documents
Voting rights (some restrictions may apply)
Vote on informational ballots (i.e., straw polls, etc.)
Access the Forum's only reflector
Participate in conference calls and face-to-face meetings of the Forum
Participate in Forum governance
Participate in general conferences of the Forum and Plugfests (additional fees for these activities may apply)
Eligibility for role as a Forum officer
Early access to Forum Conformance Test Suite (CTS) and documentation
Entitlement to submit up to 10 CDM 1.0 Conforamnce Program submissions at no additional cost. Submissions exceeding this allotment will require additional fees.
Listed in Forum publications and press releases
Forum Dues Renewal
Existing Forum members will receive renewal invoices in late February for the upcoming membership year (April 1 to March 31).
Join the CDM Forum and take advantage of this unique opportunity to influence the future of system diagnostics. Non-members interested in joining the DMTF to participate in the CDM Forum should visit the Join Us section of the DMTF Web site.
Current CDM Forum Members:
Additional Information
CDM Webinar
Industry Diagnostics Methodology Webinar (8.8MB .m4v)
This webinar will provide an introduction to the CDM Forum and will communicate the need for a standardized industry diagnostics methodology. This webinar also outlines diagnostic use cases, including benefits of using diagnostics, as well as providing an overview of the resources and tools available in the industry.
CDM Tutorials and Education